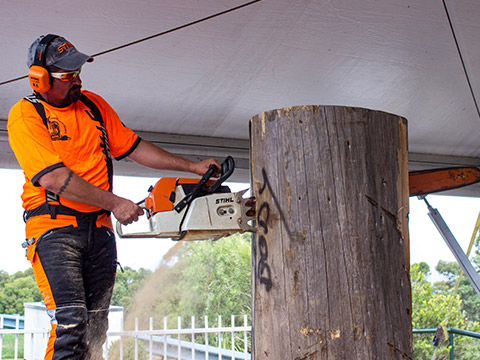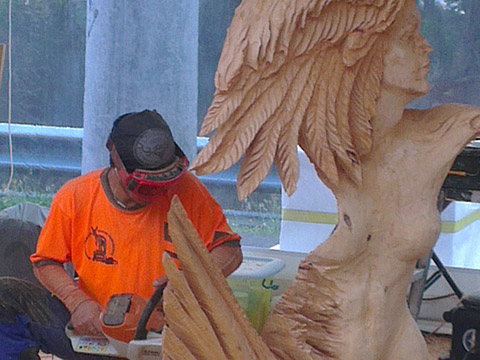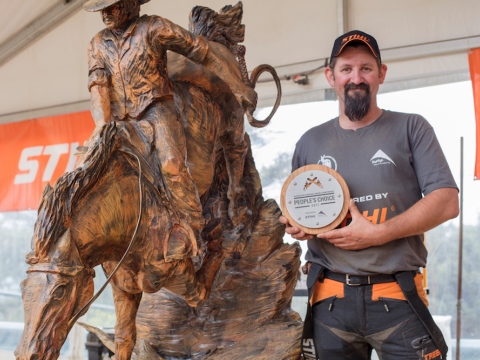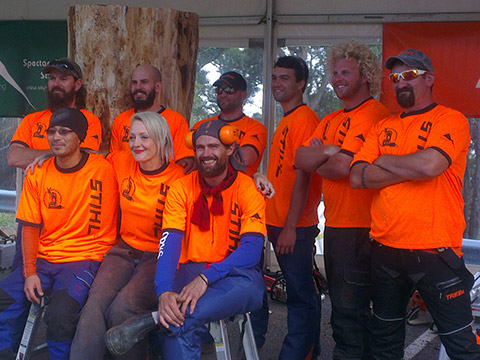 Australian Chainsaw Carving Championships
Proudly Sponsored by STIHL
Have you ever seen an artist wielding a chainsaw?
Every year during January school holidays, SkyHigh hosts the Australian Chainsaw Carving Championships where 10 contestants from all over the world have five days to create an entire sculpture from a single piece of wood!
So, Save the dates in your diary now – 16 to 21 January 2018 – and come and be amazed as male and female entrants from Australia, Canada, USA, and Japan compete for this year's cash prize.
The theme for this competition is 'The Garden', and over five days the competitors will use three different saws provided by STIHL, who are the event sponsors. On the sixth day, the carvers have a bit of fun, spending the morning 'speedcarving' some smaller sculptures, after which you can buy their sculptures and the winners of the competition get announced.
Last year's winner Rob Bast, is a self-taught carver from Wandin, near SkyHigh in the Yarra Valley, so this is his local competition, as he does carving demonstrations and competes all over the world. He loves carving at SkyHigh, and is looking forward to competing against some of the world's best chainsaw artists.
So, if you're looking for a great family event during school holidays, come up and enjoy the day here, there's plenty for the kids to do here at SkyHigh; explore the hedge maze, play on the lawns, cook up a storm on the on-site BBQs or enjoy a bite to eat at the two cafes and bistro. And for those who love a bit of make-believe – you'll love Igor the Giant's Chair and Percy the Possum's House. A gate fee of $6 per car applies, and the Chainsaw Carving Competition is a free event for everyone to marvel at.
Dont forget! Put the dates in your diary now.
Dont forget! Put the dates in your diary now.
Dont forget! Put the dates in your diary now.
At a Glance:
Since 2014 SkyHigh Mt Dandenong has been the venue for the Australian Chainsaw Carving Championships.
The event showcases some of the best carvers from all around the world and each year the carvers compete for cash prizes and the carvings are available for purchase at the conclusion of the event.
Come and witness astonishing spectacles of artistry as the carvers wield their chainsaws to turn plain logs into amazing works of art. They are artists – just with a different canvas!
When:
Tuesday 16 to Sunday 21 January, 2018
Tuesday: 12pm – 5pm
Wednesday: 9am – 5pm
Thursday: 9am – 5pm
Friday: 9am – 3.45pm
Saturday 9am – 5pm (Official end to the competition)
Sunday: 9am – 1pm (speed carving and sculptures available to purchase)
Sunday: 1.30pm winners announced
How much:
This is a free event, but gate fees apply for vehicles ($6 per car).